---
Immunochemistry
The chemistry of the molecular mechanisms of the immune system.
---
Immunochemistry is the study of biochemical and molecular aspects of immunology, especially the nature of antibodies, antigens and their interactions. Immunochemistry examines also the chemical reactions and components on the immune system.
Online available information resources on Immunochemistry, Immunohistochemistry and the basics of Immunology. See also: immunochemicals.
---
---
Content:
---
---
---
---
General Information
---
Antibodies - Introduction
A basic guide to immunological assays and general technical information. Millipore
Immunohistochemistry
Overview
---
---
Lecture Notes, Tutorials
---
Immunochemical Techniques
Lecture notes - Format: PDF
Immunochemical Techniques
Lecture notes - Format: PDF
Immunohistochemistry
Principles - Format: PDF
Immunohistochemistry
Ebook by Wormbook - Format: PDF
Immunolocalization, Immunocytochemistry
- Format: PDF
Molecular Immunology
Free tutorial
Principles of Immunochemical Techniques
... used in clinical laboratories - Format: PDF
---
---
Special Information
---
Antibody Production Notes
Overview of Antibody Production; Tips for Antibody Production. AnaSpec
Antibody Recognition
The Study of Antibody Recognition. Basics
Antibody Structure
An overview
Human IgG Subclasses
Useful diagnostic markers for immunocompetence - Format: PDF
Immunoglobulin Structure/Function
Mike's Immunoglobulin Structure/Function Home Page
Immunohistochemical Staining Methods
A education guide - Format: PDF
Immunohistochemistry World
Methods and Techniques for Histologists and Immunohistochemists
Immunology Animations
Cytotoxic T cell; IgE Mediated (Type I) Hypersensitivity; Monoclonal Antibodies .... Max Animations
Immunology: Virtual Lab
This virtual laboratory demonstrates a test, termed an enzyme-linked immunosorbent assay (ELISA), is carried out and show some of the key experimental problems that may be encountered. HHMI
Protein G Antibody Purification Handbook
Mini and Midi spin columns. Proteus - Format: PDF
Purification Protocols
The Protein Purification Facility
Recombinant Antibodies
The Recombinant Antibody Pages
---
---
Historical Facts and Documents
---
Immunology
A brief historical review of immunology - Format: PDF
---
---
Data and Databases
---
ABG
Directory of 3D structures of antibodies
HIV Molecular Immunology Database
... is an annotated, searchable collection of HIV-1 cytotoxic and helper T-cell epitopes and antibody binding sites
IMGT
The international ImMunoGeneTics information system ®
ImmunoQuery
Login required
---
---
Journals
---
Immunochemistry
1964 to 1978. Elsevier
Journal of Immunoassay and Immunochemistry
... publishes original work in the areas of immunoassay, receptor assay, and ligand assay using tracers (radioisotope, enzymes, fluor, etc.) or biological markers or ligand-receptor interaction. Taylor and Francis
Molecular Immunology
... is primarily devoted to publications concerned with immunological knowledge at the molecular, cellular and functional levels of innate and acquired immunity. Elsevier
---
---
Organisations
---
American Society for Histocompatibility and Immunogenetics
... is a not-for-profit association of clinical and research professionals including immunologists, geneticists, molecular biologists, transplant physicians and surgeons, pathologists and technologists
---
---
---
Related Books and Scientific Literature: Immunochemistry
---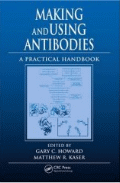 Gary C. Howard, Matthew R. Kaser
Making and Using Antibodies: A Practical Handbook
Antibodies are an indispensable tool in the study of biology and medicine. Making and Using Antibodies: A Practical Handbook presents techniques in a single, comprehensive source for the production and use of antibodies. It enables researchers to immediately access lab-tested, proven protocols. Written and edited by an elite team of scientists, who have developed and refined many of the methods, this book covers- · Commercially available adjuvants designed for the production of antisera in the research setting · Methods for the production, purification, and characterization of antibodies · Practical guidance to researchers needing to modify antibodies · Basic techniques including enzyme-linked immunosorbent assay (ELISA), Western blotting, immunohistochemistry, and flow cytometry · Methods for applying immunolabeling to the realm of electron microscopy (EM) · New antibody sources and new ways to use antobodies Making and Using Antibodies: A Practical Handbook also offers invaluable insight into future directions, challenges, and opportunities both in research and industrial applications.
CRC; 2006
---
---
---
---
Information about this site:
To include your website to the Internetchemistry directory, please use our registration form or send us an eMail.
The author- or copyrights of the listed Internet pages are held by the respective authors or site operators, who are also responsible for the content of the presentations.
Entries: 30
Last update 30.04.2016
Keywords: Immunochemistry, basics, information, education, data, theory, research
---
Citation: http://www.internetchemistry.com/chemistry/immunochemistry.htm
---
© 1996 - 2016 Internetchemistry