---
Theoretical Chemistry
Information resources about theoretical chemistry.
---
Theoretical chemistry involves the use of physical, mathematical and computaional methods to explain or predict chemical phenomena.
Over the course of time, the contents of theoretical chemistry have changed. Today, Theoretical Chemistry is an independent discipline between inorganic, organic and physical chemistry and biochemistry, in which theoretical methods and methods of physics and mathematics are applied to chemistry questions - usually with computers as tools (see also: computational chemistry; quantum chemistry).
The following list lists online information on the topics of theoretical chemistry as well as the institutions involved.
---
---
Content
---
---
---
---
General Information
---
Acronyms used in Theoretical Chemistry
A glossary. IUPAC, USA - Format: PDF
Mathematical Challenges from Theoretical/Computational Chemistry
A Report, 1995. National Academy of Sciences, USA
---
---
Lecture Notes, Tutorials
---
Computational Chemistry
Fundamentals with a focus on theoretical chemistry. A guide for organic chemists - Format: PDF
Hartree-Fock Approximation and Beyond
Lecture notes: Masters course in theoretical chemistry. University of Iceland
Quantum Mechanics
Lecture notes in theoretical chemistry - Format: PDF
Realistic Systems I
Lecture notes - Format: PDF
Realistic Systems III
Lecture notes - Format: PDF
Theoretical Chemistry
An Introduction to Theoretical Chemistry by Jack Simons
Theoretical Chemistry
Lecture notes - Format: PDF
Theoretical Chemistry
An introduction. Theoretical Chemistry, USA - Format: PDF
---
---
Special Information
---
Lanthanide and actinide theoretical chemistry
From atomic clusters to condensed phase - Format: PDF
Relativistic Energy-consistent Ab Initio Pseudopotentials
New Developments for Actinides - Format: PDF
---
---
Journals
---
Computational and Theoretical Chemistry
… publishes high quality, original reports of significance in computational and theoretical chemistry including those that deal with problems of structure, properties, energetics, weak interactions, reaction mechanisms, catalysis, and reaction rates involving atoms, molecules, clusters, surfaces, and bulk matter
Electronic Journal of Theoretical Chemistry
Electronic Journal of Theoretical Chemistry has ceased publication and is no longer available for sale. Wiley Interscience
Journal of Mathematical Chemistry
JOMC publishes original, chemically important mathematical results which use non-routine mathematical methodologies often unfamiliar to the usual audience of mainstream experimental and theoretical chemistry journals. Springer
Journal of Theoretical and Computational Chemistry
JTCC is an international interdisciplinary journal, aimed at providing comprehensive coverage on the latest developments of research in the ever-expanding area of theoretical and computational chemistry and their applications to broad scientific fields spanning physics, chemistry, biology, materials, and so on
THEOCHEM
... publishes research related to the broad area of theoretical and computational investigation of molecular systems, including problems of molecular structure, properties, energetics, reactions, interactions, and dynamics. Elsevier
Theoretical Chemistry Accounts
TCA publishes papers in all fields of theoretical chemistry, computational chemistry, and modeling. Springer
---
---
Research facilities and departments
---
Vienna
Institute for Theoretical Chemistry and Structural Biology. University of Vienna, Austria
---
---
Organisations
---
CECAM
European Centre for Atomic and Molecular Computations
WATOC
The World Association of Theoretical and Computational Chemists
---
---
---
Related Books and Scientific Literature: Theoretical Chemistry
---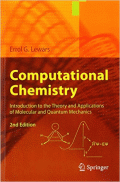 Errol G. Lewars
This corrected second edition contains new material which includes solvent effects, the treatment of singlet diradicals, and the fundamentals of computaional chemistry. "Computational Chemistry: Introduction to the Theory and Applications of Molecular and Quantum Mechanics" is an invaluable tool for teaching and researchers alike. The book provides an overview of the field, explains the basic underlying theory at a meaningful level that is not beyond beginners, and it gives numerous comparisons of different methods with one another and with experiment.
Springer; 2011
---
---
---
---
---
About this site
The author- or copyrights of the listed Internet pages are held by the respective authors or site operators, who are also responsible for the content of the presentations.
To include your website to the Internetchemistry directory, please use our registration form or send us an eMail.
Entries: 21
Update: 16.11.2016
Keywords: Theoretical Chemistry, basics, information, theory, education, research
---
---
Permalink: http://www.internetchemistry.com/chemistry/theoretical-chemistry.php
---
(C) 1996 - 2018 Internetchemistry
---