---
Wastewater treatment
Chemical waste water treatment [supplier]
---
Waste water treatment is a process removing contaminants from wastewater.
Basically, the supply of citizens with drinking water and wastewater treatment object of the respective municipality. However, the municipalities may outsource this area to external service providers, which is done increasingly. This is especially useful if the service provider located more know-how and the cost-benefit ratio is better. Outsourcing of municipal sewage treatment is carried out according to established guidelines.
List of companies offering systems and services for water treatment. Focus: engineering services and industrial water processing.
---
---
Content:
---
---
---
---
International manufacturer and supplier
---
ProMinent
Equipment, systems and components for waster water treatment - [d, e, ...]
---
---
Germany
---
Abwassertechnik König
Erwin König Abwassertechnik bietet die hierzu nötigen unabhängigen Ingenieurleistungen - [d, e]
Biodetox
Bakterien für die Boden- und Abwasserreinigung und für spezielle Anwendungen, z. B. im Haushalt. Lohnabfüllung z. B. von Chemikalien und biologischen Produkten - [d]
Evoqua Water Technologies
… ist einer der weltweit führenden Anbieter von Produkten und Serviceleistungen zur Wasseraufbereitung sowohl für Industriekunden als auch für den öffentlichen Sektor - [d, e]
nova Umwelttechnik GmbH
Produkte und Leistungen für die Abwasserreinigung - [d]
Prominent Gruppe
Anlagen, Systeme und Komponenten zur Abwasserbehandlung - [d, e]
prosys° GmbH
Abwasser, Energie, Anlagenbau, Projektmanagement und analytische Instrumente - [d]
SAB Umwelt- und Verfahrenstechnik GmbH
Integrierte Abwasseraufbereitung durch SAB-Chemie für jede Branche nutzbar - [d]
Separ Chemie
Effektive Chemikalien für komplexe Abwasserbehandlung - [d, e]
TEDAG GmbH
Elektroflotationsverfahren zur kontinuierlichen Behandlung / Aufbereitung emulsions- und / oder schwermetallhaltiger Ab-oder Prozessabwässer Elektrolytisches Verfahren zur Standzeitverlängerung des Brauchwassers.
Wasser- und Abwasserdesinfektion, UV-Desinfektionsanlagen - [d]
Triton Water AG
Prozesswasseraufbereitung, Prozesswasserrecycling, Abwasseraufbereitung, Abwasserneutralisation - [d]
---
---
United States of America, USA
---
Aquapoint
Aquapoint designs decentralized wastewater treatment systems to meet the discharge standards required by commercial, residential and industrial customers - [e]
Aries Chemical, Inc.
Aries specializes in chemicals, equipment and expert service for industries, institutions and municipalities - [e]
Cannon Water Technology Inc.
... is your first stop for industrial and processed water treatment equipment, services, chemicals and training - [e]
CETCO Oilfield Services Company
... offers a full line of service packages for Water Treatment Filtration, Pipeline Separation and Well Testing Data Service applications with the required engineering and monitoring tools to make these services state of the art - [e]
EcoChem
... is a leading producer of environmentally friendly natural and organic products and solutions for use in environmental cleanup, waste management, oil spill cleanup, soil reclamation, waste water treatment, algae control, manure management, composting, lawn care and other life science sectors - [e]
GE Water & Process Technologies
From feedwater and fuel to wastewater reuse and disposal, GE Water and Process Technologies has the expertise to help you reduce operating costs, increase efficiency and protect your valuable equipment - [e]
IN USA, Inc.
... is a leading manufacturer of Ozone (O3) monitoring and control instrumentation for a wide range of applications and markets - [e]
JNB Laboratories
... provides industrial water treatment, fugitive dust control, legionella testing & hydrogen peroxide cooling water treatment in New Jersey (NJ), Pennsylvania (PA), New York (NY), Delaware (DE), Connecticut (CT) & Maryland (MD) - [e]
Mid South Chemical
... is a leading manufacturer of water treatment chemicals - [e]
Nalco Company
... is the world's leading water treatment and process improvement company, delivering significant environmental, social and economic performance benefits to a variety of industrial and institutional customers - [e]
QualiChem, Inc.
... is a formulating manufacturer of water treatment, metalworking, and additional specialty chemicals - [e]
Roebic Technology Inc.
Manufacturers of proprietary bacterial products for wastewater treatment - [e]
Soft Water Filtration
... provides proprietary water treatment programs for municipal, industrial and commercial water systems - [e]
Sper Chemical Corporation
Manufacturer of High Quality Water Treatment Formulations for Municipal Drinking Water, Agricultural Irrigation and the Industrial Markets - [e]
U.S. Water Services
... is the largest independently owned water treatment/service company in Minnesota, and the fastest growing water treatment company in the country - [e]
Wesco Chemicals, Inc.
... is a professional water treatment company, founded over 20 years ago in Waxahachie, Texas serving communities ranging from rural Texas to the entire USA - [e]
Zentox Corporation
... provides advanced water and air purification solutions to its customers in industrial and commercial markets - [e]
Zinkan Enterprises for Specialty Chemicals
... manufactures a wide variety of specialty chemicals to serve the needs of mining, industrial and commercial customers - [e]
---
---
United Kingdom
---
Accepta
... is a leading supplier of high performance industrial and process water and waste water treatment chemicals; speciality chemicals, water testing kits and water quality analysis equipment; reagents, dosing pumps, meters and control equipment - [e]
FeedWater - The Water Treatment Specialists
Feedwater is one of the UKs largest water treatment companies and the only UKAS accredited with it\'s own in-house Laboratory for Legionella Testing - [e]
Fluid Dynamics
... is one of the UK and Ireland's most experienced water treatment product companies - [e]
---
---
European Union
---
Kemira
... will be a focused company, the best in water and fiber management chemistry - [e, ...]
---
---
Canada
---
ControlChem
... is your water treatment partner, providing expert Boiler, Cooling and Wastewater Solutions - [e, f]
Quatic Industries Inc.
Quatic Chemicals - water treatment and equipment for heating and air conditioning systems, process heating and cooling, and waste water applications - [e]
Trojan Technologies Inc.
Wasser- und Abwasserdesinfektion, UV-Desinfektionsanlagen - [e]
---
---
China
---
Shandong Taihe Water Treatment Co., Ltd.
... is one of the largest and professional water treatment chemicals factory in China, and can manufacture all kinds of water treatment chemicals - [e, cn]
---
---
India
---
Albatross Fine Chem Limited
... is a professionally managed Public Limited Company engaged in the manufacturing of specialty Chemicals for the variety of industries - [e]
Deioners
Water Treatment Chemicals - [e]
Meta-Kem
... manufacture ring comprises of pre-treatment, water treatment chemicals, Heat treatment Salts and Marine Maintenance Chemicals in core competence of the company with strong emphasis on R&D and total quality management - [e]
---
---
---
Related Books and Scientific Literature: Wastewater treatment
---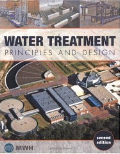 MWH
Water Treatment: Principles and Design
The one-stop resource for all aspects of water treatment engineering-from theory to practice.
Completely revised and updated to address current practices and technologies, Water Treatment: Principles and Design, Second Edition provides unique coverage of both the principles and theory of water treatment, as well as the practical considerations of plant design and distribution.
Written by the world's leading water engineering firm, Water Treatment: Principles and Design, Second Edition presents the breadth of water treatment engineering-from the theory and principles of water chemistry and microbiology to in-depth discussions of revolutionary treatment processes to concise tips for plant and network design. Material has been extensively updated and revised in response to regulatory requirements and growing public awareness, particularly in the areas of disinfection, membrane filtration, disposal of treatment plant residuals, and basic microbiology with an emphasis on human pathogens and diseases.
Wiley; 2 edition; 2005
---
---
---
---
Information about this site:
To include your website to the Internetchemistry directory, please use our registration form or send us an eMail.
The author- or copyrights of the listed Internet pages are held by the respective authors or site operators, who are also responsible for the content of the presentations.
Entries: 40
Last update 16.11.2016
Keywords: Chemical, wastewater, treatment, companies, industry, services, products
---
Citation: http://www.internetchemistry.com/market/waste-water-treatment.htm
---
© 1996 - 2016 Internetchemistry