---
Colloid Chemistry
The chemistry and physics of colloids.
---
The Colloids are types of mechanical mixtures where a substance is dispersed throughout a dispersion medium. The terms colloid or colloidally therefore designate not a material property, but a state.
Colloids and colloidal systems are therefore classified as soft matter. The size of the particles lies in the micro- and nanoscale. Typical examples of colloidal systems are milk, blood, mist but also cosmetic emulsions, smoke, whipped cream, aerogels, etc.
Colloid chemistry is a branch of physical chemistry and is concerned with the chemical properties and the production of colloidal systems.
Below you will find online available information resources on the chemistry and physics of colloids.
---
---
Content:
---
---
---
---
Current Articles
---
---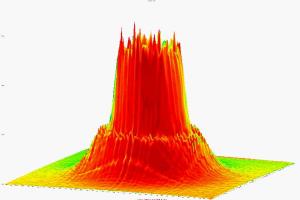 A Model System for so-called Soft Colloids
A New Study shows Correlation between Microscopic Structures and Macroscopic Properties - and offers a Recipe Book for Colloids.
Image: Using neutron scattering, researchers were able to study the structure of their samples. The size of the rings in the image can, for example, define the distance between two colloid particles.
[Image credit: Forschungszentrum Julich]
---
---
---
---
---
Lecture Notes, Tutorials
---
Association colloids
Lecture notes - Format: PDF
Chemistry of Colloids
Basic information
Colloid Chemistry
eBook: Chemical Physics of Colloid Systems and Interfaces - Format: PDF
Colloid Chemistry
eBook: Handbook of applied surface and colloid chemistry, Volume 1 - Format: PDF
Colloid chemistry
An introduction - Format: PDF
Colloid stability
Lyophobic sols. Stabilization of colloids - Format: PDF
Colloid Systems
Definition of colloid systems, classification and characterization. Interparticle interactions - Format: PDF
Colloidal Soft Matter
Lecture notes: the physics of colloidal soft matter - Format: PDF
Colloids
Definition, stability, phase transition, aggregation - Format: PDF
Colloids
Casic information
Food Colloids
Article: clever comestibles - Format: PDF
Macromolecular colloids
Size and shape of linear macromolecules. Osmosis and osmotic pressure - Format: PDF
Stability
Colloid stability of lyophobiccolloids - Format: PDF
---
---
Historical Facts and Documents
---
Nobel Prize in Chemistry 1925
Richard Adolf Zsigmondy: fundamentals in colloid chemistry
---
---
Journals
---
Colloid Journal
The journal publishes the results of research in the area of chemical science dealing with the disperse state of matter and surface phenomena in disperse systems. Springer
Colloids and Surfaces A
Physicochemical and Engineering Aspects. Elsevier
Colloids and Surfaces B
Biointerfaces. Elsevier
Journal of Colloid and Interface Science
… publishes original research findings and insights regarding the fundamental principles of colloid and interface science, and conceptually novel applications of these principles in chemistry, chemical engineering, physics, applied mathematics, materials science, polymer science, electrochemistry, geology, agronomy, biology, medicine, fluid dynamics, and related fields. Elsevier
---
---
Dissertations
---
Simulation and Modeling of Mono- and Bidisperse Suspensions
Dissertation (2000). University of Stuttgart, 2000
---
---
---
Related Books and Scientific Literature: Colloid Chemistry
---
Dimo Platikanov, Dotchi Exerowa
This beautiful compilation of invited review articles - authored by well-known scientists - covers the latest developments and achievements in colloid and interface science, and is dedicated to Professor Tharwat Tadros, an outstanding scientist in the field. Due to the fact that colloid science involves a great number of disciplines, the papers discuss such hot topics as emulsions, nano-particles, surfactants, micro-emulsions and self-assembly.
Wiley-VCH; 2008
---
---
---
---
Information about this site:
To include your website to the Internetchemistry directory, please use our registration form or send us an eMail.
The author- or copyrights of the listed Internet pages are held by the respective authors or site operators, who are also responsible for the content of the presentations.
Entries: 20
Last update 30.04.2016
Keywords: Colloids, chemistry, physics, properties, data
---
Citation: http://www.internetchemistry.com/chemistry/colloids.htm
---
© 1996 - 2016 Internetchemistry