---
Complex Chemistry
The chemistry of coordination complexes.
---
In general the term coordination chemistry describes the chemistry of metals and metal ions in their interaction with other molecules or ions.
Online available information on coordination chemistry and coordination complexes.
---
---
Content:
---
---
---
---
Lecture Notes, Tutorials
---
Amphoterism
Complex Ions and amphoterism - Format: PDF
Coordination Chemistry
Introduction
Coordination Chemistry
… of transition metals - Format: PDF
Coordination Chemistry
An overview - Format: PDF
Coordination Chemistry
Lecture notes: introduction to transition metal ions and coordination chemistry
Coordination Complexes
d-block metal chemistry - Format: PDF
Coordination Compounds
Notes: What Is A Coordination Compound. Purdue University
Isomerism
Isomerism in complexes - Format: PDF
Nomenclature
... of coordination compounds
Transition Metal/Coordination Chemistry
Lecture Presentation. Southeast Missouri State University - Format: PDF
---
---
Journals
---
Coordination Chemistry Reviews
... offers rapid publication of review articles on topics of current interest and importance in coordination chemistry. Elsevier
Journal of Coordination Chemistry
... publishes the results of original investigations involving the physical and chemical properties, syntheses and structures of coordination compounds. Taylor and Francis
Russian Journal of Coordination Chemistry
... presents reviews, original papers, and communications on all aspects of theoretical and experimental coordination chemistry. Springer
---
---
---
Related Books and Scientific Literature: Complex Chemistry
---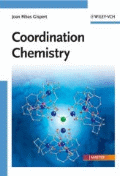 Joan Ribas Gispert
Suitable for graduate students, master courses and postdocs, this is the first textbook to discuss the whole range of contemporary coordination chemistry. It has been thoroughly reviewed by leading textbook authors, and the concept already proven by the successful Spanish edition. After an introduction, the book covers in a clearly ordered manner structure and bonding, supramolecular coordination chemistry, electronic properties and electron transfer. This title is set to become the standard for years to come.
Wiley-VCH; 2008
---
---
---
---
Information about this site:
To include your website to the Internetchemistry directory, please use our registration form or send us an eMail.
The author- or copyrights of the listed Internet pages are held by the respective authors or site operators, who are also responsible for the content of the presentations.
Entries: 13
Last update 30.04.2016
Keywords: Coordination, chemistry, complex, compounds, complexes, theory, basics, research
---
Citation: http://www.internetchemistry.com/chemistry/coordination-chemistry.htm
---
© 1996 - 2016 Internetchemistry