---
Nanochemistry
Chemistry of nanostructured materials.
---
Nanochemistry is a scientific branch that examines the synthesis, analysis and structure of chemical compounds at the nanoscale.
Nanochemistry located in the border area between nanotechnology and chemistry. But other areas of work play a role: nanotoxicology, the physics of nanostructures, materials chemistry theoretical chemistry and physics, and others.
The following list gives an overview of information and information on the chemistry of nanomaterials.
---
---
Content:
---
---
---
---
Current Articles
---
Metallic Molecules to Nanotubes: Spread Out!
Rice University lab uses ruthenium complexes to dissolve nanotubes, add functionality
Nano-forest for Solar Water-splitting
Berkeley Lab researchers report first fully integrated artificial photosynthesis nanosystem
Nano-scale Reference Materials
Exactly Nano: BAM Federal Institute for Materials Research and Testing lists the world-wide available nano-scale reference materials on its website.
---
---
Lecture Notes, Tutorials
---
Nacre and Beyond
Highly parallel crystallization of nanoparticles to their superstructures. Max Planck Institute of Colloids and Interfaces - Format: PDF
Nanochemistry
An introduction and potential applications
Nanochemistry
Lecture notes: introduction to nanoscience - Format: PDF
---
---
Partial Information
---
Microscopy Methods in Nanochemistry
Current Microscopy Contributions to Advances in Science and Technology - Format: PDF
Quality Handbook
Standard Procedures for Nanoparticle Testing
Supramolecular Nanochemistry
From self-assembly to responsive architectures. Thesis - Format: PDF
---
---
Safety
---
Nanosafe
Safe production and use of nanomaterials
---
---
Journals
---
AZoNano.com
A Free To Access Nanotechnology Information Site
International Journal of Nanoscience
This inter-disciplinary, internationally-reviewed research journal covers all aspects of nanometer scale science and technology. IJN. World Scientific Publishing
Journal of Nanoparticle Research
... disseminates knowledge of the physical, chemical and biological phenomena and processes in structures with at least one lengthscale ranging from molecular to approximately 100 nm, and which exhibit improved and novel properties resulting from their small size. Springer
Journal of Nanoscience and Nanotechnology
... is an international and multidisciplinary peer-reviewed journal with a wide-ranging coverage, consolidating research activities in all areas of nanoscience and nanotechnology into a single and unique reference source. ASP
Nano Letters
The leading forum for rapid communication of nanoscale research in a range of disciplines, from physical and materials chemistry to biotechnology and applied physics. ACS
Nanostructured Materials
Archive: 1992 - 1999. Elsevier
Nanotechnology
... is the first journal dedicated to coverage of all aspects of nanoscale science and technology from a multidisciplinary perspective. IoP Journal
Physica E: Low-dimensional Systems and Nanostructures
... contains papers and review articles on the fundamental and applied aspects of physics in low-dimensional systems. Elsevier
Superlattices and Microstructures
... is a journal devoted to the dissemination of the science and technology of synthetic heterostructures, including individual and collective use of semiconductors, metals and insulators for the exploitation of their unique properties. Elsevier
Virtual Journal of Nanoscale Science & Technology
This weekly virtual journal contains articles that have appeared in one of the participating source journals and that fall within a number of contemporary topical areas in the science and technology of nanometer-scale structures. Closed: 2011
---
---
Dissertations
---
Local manipulation of single electrons in semiconductor nanostructures
Scientific thesis, 2005. ETH Zürich
---
---
Research facilities and departments
---
Australia: Curtin University of Technology
Nanochemistry Research Institute
Germany: University of Oldenburg
Nanochemistry Workgroup
Germany: University of Siegen
Cµ - the Research Center for Micro- and Nanochemistry
---
---
Organisations
---
EU
Nanotechnology Homepage of the European Commission
---
---
---
Related Books and Scientific Literature: Nanochemistry
---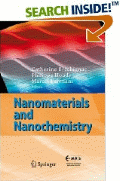 C. Bréchignac, P. Houdy, M. Lahmani
Nanomaterials and Nanochemistry
Nanomaterials are a fast developing field of research and applications lie in many separate domains, such as in hi-tech (optics, electronics, biology, aeronautics), but also in consumer industries (automotive, concrete, surface treatments (including paints), cosmetics, etc.).
Springer; 2008
---
---
---
---
Information about this site:
To include your website to the Internetchemistry directory, please use our registration form or send us an eMail.
The author- or copyrights of the listed Internet pages are held by the respective authors or site operators, who are also responsible for the content of the presentations.
Entries: 25
Last update 30.04.2016
Keywords: Nanochemistry, nanostructures, nanomaterials, reactions
---
Citation: http://www.internetchemistry.com/chemistry/nanochemistry.htm
---
© 1996 - 2016 Internetchemistry