---
Chemistry of Paints
Chemistry of paints, coatings, varnishes and lacquers.
---
Paints are liquid, liquifiable or powdery substances which after application to a substrate in a thin layer is converted to an opaque solid film.
Coatings are typically applied to surfaces and are designed to protect - especially against corrosion, the beautification of materials and articles, as well as artistic purposes. Coloring components are inorganic and organic dyes or pigments which are applied often dissolved in a solvent.
The following list includes online available information and resources about the chemistry of paints and varnishes.
---
---
Content:
---
---
---
---
General Information
---
What is Paint?
An introduction - Format: PDF
---
---
Lecture Notes, Tutorials
---
Basics on Coatings Chemistry
What the generic types mean practically - Format: PDF
Color Theory
Lecture notes - Format: PDF
Colour Chemistry
Principles of colour chemistry - Format: PDF
Dyes
Lecture notes: chemistry of dyes
Paint Chemistry
Introduction to paint chemistry and principles of paint technology - Format: PDF
---
---
Special Information
---
Adhesion
... of coatings - Format: PDF
History of Paint Science
... and technology - Format: PDF
Protection
Coating for the protection of structural steelwork - Format: PDF
Silicones in Coatings
An introduction - Format: PDF
---
---
Journals
---
Journal of Coatings Technology and Research
JCTR is a forum for the exchange of original research, experience, knowledge and ideas among those with a professional interest in the science, technology and manufacture of functional, protective and decorative coatings including, but not limited to, paints, inks and related coatings and their raw materials. Springer
---
---
Law, Acts, Regulations
---
Color Additives
The use of color additives in FDA-regulated products. FDA, USA
---
---
---
Related Books and Scientific Literature: Chemistry of Paints
---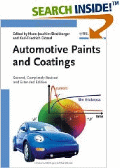 Hans-Joachim Streitberger, Karl-Friedrich Dössel
Now in its second edition and still the only book of its kind, this is an authoritative treatment of all stages of the coating process -- from body materials, paint shop design, and pre-treatment, through primer surfacers and top coats. New topics of interest covered are color control, specification and testing of coatings, as well as quality and supply concepts, while valuable information on capital and legislation aspects is given. Invaluable for engineers in the automotive and paints and coatings industry as well as for students in the field.
Intended for use by engineers in the motor vehicle and paint and coatings industries as well as for students.
Wiley-VCH; 2008
---
---
---
---
Information about this site:
To include your website to the Internetchemistry directory, please use our registration form or send us an eMail.
The author- or copyrights of the listed Internet pages are held by the respective authors or site operators, who are also responsible for the content of the presentations.
Entries: 12
Last update 30.04.2016
Keywords: Paints, arnishes, lacques, coatings, chemistry, basic, information, theory, applications
---
Citation: http://www.internetchemistry.com/chemistry/paints-chemistry.htm
---
© 1996 - 2016 Internetchemistry