---
Aeorosols
Chemistry and Physics of Aeorosols.
---
Aerosol in a scientific sense, is the name for a colloidal system of a gas (usually: air) with dispersed therein, small solid or liquid particles (suspended solids; aerosol particles) having a size between about 0.5 nm and 100 nm.
Aerosols can be of natural or artificial origin. The artificial species are mostly haze, dust smoke, etc. They may also be air pollutants or work safety relevant emissions. In nature, the natural aerosols and anthropogenic species play a role. These are, for example, object of study of atmospheric chemistry and climate research.
The following directory lists available online information about the chemistry and physics of aerosols.
---
---
Content:
---
---
---
---
Current Articles
---
Black Carbon Aerosols
Black carbon a significant factor in melting of himalayan glaciers
Secondary Organic Aerosols
No longer pining for organic molecules to make particles in the air. New work will help researchers refine atmospheric weather, climate models
---
---
Lecture Notes, Tutorials
---
Aerosol Chemistry
Lecture notes - Format: PDF
Aerosols
General aspects - Format: PDF
Aerosols
Generation and Behavior of Airborne Particles
Aerosols
… their Direct and Indirect Effects - Format: PDF
Aerosols
Their direct and indirect effects - Format: PDF
Aerosols and Coagulation
Lecture notes - Format: PDF
Atmospheric Aerosols
Properties and climate impacts - Format: PDF
Atmospheric Aerosols
Composition, transformation, climate and health effects - Format: PDF
Natural Aerosols
… in the climate system - Format: PDF
Organic Aerosols
Atmospheric processing of organic aerosols. Article, 1999 - Format: PDF
---
---
Special Information
---
Cloud Interactions
... of aerosols - Format: PDF
---
---
Environmental Chemistry
---
Global transport of POPs
The role of aerosol particles - Format: PDF
---
---
Journals
---
Aerosol Science and Technology
The official journal of the American Association for Aerosol Research. Taylor and Francis
Journal of Aerosol Medicine and Pulmonary Drug Delivery
... contains peer-reviewed papers on studies involving inhalation of particles and gases in the respiratory tract, covering the use of aerosols as tools to study basic physiologic phenomena, their use as selective delivery systems for medication, the measurement of respiratory secretions, and the toxic effects of inhaled agents. Mary Ann Liebert, Inc.
Journal of Aerosol Science
... considers itself the prime vehicle for the publication of original work as well as reviews related to basic and applied aerosol research. Its content is directed at scientists working in areas such as physics, chemistry, engineering, applied mathematics, aerobiology, medicine, industrial and environmental hygiene, toxicology, or materials processing. Elsevier
---
---
Organisations
---
American Association for Aerosol Research
AAAR is a nonprofit professional organization for scientists and engineers who wish to promote and communicate technical advances in the field of aerosol research
Association Franaise d'Etudes et de Recherches sur les Arosols
ASFERA provides a national forum whereby various groups in France, who recognized the importance of aerosols, could interact and make a special effort to advance the interdisciplinary cooperation
UK Aerosol Society
The Society exists to promote research in the United Kingdom and the Republic of Ireland in the area of aerosol science: the study of particles suspended in a gas
---
---
---
Related Books and Scientific Literature: Aeorosols
---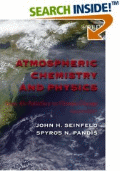 John H. Seinfeld, Spyros N. Pandis
Atmospheric Chemistry and Physics: From Air Pollution to Climate Change
The Second Edition of this internationally acclaimed text presents the latest developments in atmospheric science. It continues to be the premier text for both a rigorous and a complete treatment of the chemistry of the atmosphere.
All chapters develop results based on fundamental principles, enabling the reader to build a solid understanding of the science underlying atmospheric processes. Among the new material are three new chapters: Atmospheric Radiation and Photochemistry, General Circulation of the Atmosphere, and Global Cycles. In addition, the chapters Stratospheric Chemistry, Tropospheric Chemistry, and Organic Atmospheric Aerosols have been rewritten to reflect the latest findings.
Readers familiar with the First Edition will discover a text with new structures and new features that greatly aid learning. Many examples are set off in the text to help readers work through the application of concepts. Advanced material has been moved to appendices. Finally, many new problems, coded by degree of difficulty, have been added. A solutions manual is available.
Thoroughly updated and restructured, the Second Edition of Atmospheric Chemistry and Physics is an ideal textbook for upper-level undergraduate and graduate students, as well as a reference for researchers in environmental engineering, meteorology, chemistry, and the atmospheric sciences.
Wiley-Interscience; 2006
---
---
---
---
Information about this site:
To include your website to the Internetchemistry directory, please use our registration form or send us an eMail.
The author- or copyrights of the listed Internet pages are held by the respective authors or site operators, who are also responsible for the content of the presentations.
Entries: 20
Last update 16.11.2016
Keywords: Aeorosols, chemistry, physics, analytics, information, research
---
Citation: http://www.internetchemistry.com/chemistry/aerosols.htm
---
© 1996 - 2016 Internetchemistry