---
Immunochemicals
Manufacturers and suppliers of immunochemicals.
---
Immunochemistry examines the chemical reactions and components on the immune system.
Immunochemicals are various chemicals and reagents used in diagnostics, laboratory medicine, immunological reactions and investigations as well as in the field of immuno chemistry research.
Below is a list of manufacturers and suppliers of chemicals for molecular immunosiagnostics and immunological research. See also: Immunoassays.
---
---
Content:
---
---
---
---
International manufacturer and supplier
---
Bachem AG
... is specialized in the process development and the manufacturing of peptides and complex organic molecules as active pharmaceutical ingredients (APIs), as well as innovative biochemicals for research purposes, and offers 1550 immunology products - [e]
Invitrogen
Biochemicals for life sciences - [e]
Merck Chemical Ltd. / EMD
... offers high quality immunochemical reagents - [e]
---
---
Germany
---
Beckman Coulter
… bietet für den Einsatz im Disease Management Immunoassay-Systeme an, die modernste Chemolumineszenz-Technologie mit einem breiten Testspektrum verbinden - [d]
BioCat GmbH
... offers a wide range of high-quality research reagents as well as cutting-edge technologies in the fields of genomics, proteomics, and cell biology - [e]
Biotrend
... is specialised in Immunology, Neuroscience, Pharmacology and Radiochemistry, supplying biomedical and pharmaceutical research with a large range of antibodies, radiolabelled products, custom synthesis and antibody production services - [d, e]
CE-Immundiagnostika GmbH
Herstellung von Blutgruppen-Testseren und Hilfsstoffen, der Auftragsproduktion von polyklonalen Antikörpern in Schafen und Kaninchen sowie der Gewinnung von Vollblut, Plasma oder Seren - [d, e, f]
Human GmbH
Hersteller diagnostischer Produkte mit einer breiten Palette an klinischen Analysesystemen, Reagenzien und medizinischem Laborbedarf in mehr als 160 Länder vertreibt - [d, e]
Immundiagnostik AG
Entwicklung von immunologischen Methoden für unbesetzte Nischen im Bereich Labordiagnostik - [d, e]
Intertek
… bietet eine fundierte Expertise für die Entwicklung und Validierung von quantitativen Ligandbindungs-Assays (Immunassays) für die Verwendung in pharmakokinetischen und toxikokinetischen Studien, inklusive Immunogenizitäts- und Biomarker-Studien für innovative Biologika, Biosimilars und ein großes Spektrum an Makromolekülen - [d]
Olympus
Der Bereich Olympus Diagnostik bedient die Produktsegmente Klinische Chemie, Immunchemie, Elektrophorese, Blutgruppenserologie und Laborautomation - [d, e]
Roche
Heterogene Immunchemie Produkte - [d]
---
---
United States of America, USA
---
Cell Sciences
... offers immunochemicals for life science research - [e]
Lampire Biological Laboratories, Inc.
... is an industry leader in the production of immunoglobulins and secondary antibodies - [e]
Polysciences, Inc.
... is a leading manufacturer of laboratory products, monomers, polymers, microscopy, histology, biotechnology, electronics and specialty products for pharmaceutical and personal care industries - [e]
Rockland Immunochemicals, Inc.
Rockland Immunochemicals primary and secondary antibodies, conjugates and custom antibody production, Custom Monoclonal Antibodies, Custom Polyclonal Antibodies, Custom Molecular Biology, Custom Conjugations, Custom Antibody Purification - [e]
ViroStat
Polyclonal Immunochemicals, Monoclonal Immunochemicals, Recombinant Antigens, Companion Reagents - [e]
---
---
---
Related Books and Scientific Literature: Immunochemicals
---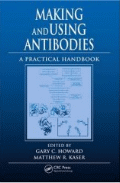 Gary C. Howard, Matthew R. Kaser
Making and Using Antibodies: A Practical Handbook
Antibodies are an indispensable tool in the study of biology and medicine. Making and Using Antibodies: A Practical Handbook presents techniques in a single, comprehensive source for the production and use of antibodies. It enables researchers to immediately access lab-tested, proven protocols. Written and edited by an elite team of scientists, who have developed and refined many of the methods, this book covers- · Commercially available adjuvants designed for the production of antisera in the research setting · Methods for the production, purification, and characterization of antibodies · Practical guidance to researchers needing to modify antibodies · Basic techniques including enzyme-linked immunosorbent assay (ELISA), Western blotting, immunohistochemistry, and flow cytometry · Methods for applying immunolabeling to the realm of electron microscopy (EM) · New antibody sources and new ways to use antobodies Making and Using Antibodies: A Practical Handbook also offers invaluable insight into future directions, challenges, and opportunities both in research and industrial applications.
CRC; 2006
---
---
---
---
Information about this site:
To include your website to the Internetchemistry directory, please use our registration form or send us an eMail.
The author- or copyrights of the listed Internet pages are held by the respective authors or site operators, who are also responsible for the content of the presentations.
Entries: 17
Last update 16.11.2016
Keywords: Immunochemicals, immunoassays, producer, suppliers, products
---
Citation: http://www.internetchemistry.com/market/immunochemicals.htm
---
© 1996 - 2016 Internetchemistry