---
Diagnostics
Manufacturer and supplier for clinical-chemical diagnostics.
---
Diagnostics (singular: diagnostic) means chemical and biochemical reagents and kits, which are used in clinical-chemical and medical laboratories for the preparation of medical diagnoses and for distinguishing diseases.
The following overview lists manufacturers and suppliers of diagnostic chemicals, components and test kits for clinical-medical applications. See also: antibodies, biochemicals, immunochemicals, immunoassays, radiochemicals.
---
---
Content:
---
---
---
---
International manufacturer and supplier
---
Abbott
... is a global, broad-based health care company devoted to discovering new medicines, new technologies and new ways to manage health - [e]
Bayer Schering Pharma
... is one of the ten largest specialty pharmaceutical companies in the world - [d, e]
Beckman Coulter
Clinical diagnostics - [e]
Cellestis
... develops and markets QuantiFERON technology products for medical diagnosis and scientific research - [e]
Eppendorf
... is a biotech company which develops, produces and distributes systems for use in life-science research laboratories worldwide - [e]
Ortho-Clinical Diagnostics
... serves the transfusion medicine community and laboratories around the world - [e]
Qiagen
... is the leading provider of sample and assay technologies - [e]
Roche Diagnostics
As a research-focused healthcare company, Roche discovers, develops and provides innovative diagnostic and therapeutic products and services that deliver significant benefits to patients and healthcare professionals – from early detection and prevention of diseases to diagnosis, treatment and treatment monitoring - [d, e]
Siemens Healthcare Diagnostics
... offers a broad portfolio of performance-driven diagnostics solutions that provide more effective ways to assist in the diagnosis, monitoring and management of disease - [e]
---
---
Germany
---
Abbott in Deutschland GmbH
Ein breites Spektrum an Produkten, Service- und Dienstleistungen im Bereich der Immunodiagnostik, der Klinischen Chemie, der Hämatologie sowie der Molekulardiagnostik - [d, e]
Aesku.Diagnostics
... bietet das weltweit größte Produktportfolio innovativer Testsysteme für die Autoimmundiagnostik - [d, e]
AID Diagnostika GmbH
... produziert und vermarktet seit 1989 weltweit diagnostische Produkte, Geräte und dazu gehörende Computerprogramme im Bereich Immunologie und Infektionskrankheiten - [d, e]
Allergopharma
In-vitro- und In-vivo-Allergiediagnostik - [d, e]
Attomol GmbH
Entwicklung, Produktion und Vertrieb humanmedizinischer Diagnostika auf dem Gebiet der Molekulargenetik und der Infektiologie - [d, e]
Axon Lab AG
... kann Ihnen aus einer breiten Geräte- und Herstellerpalette unabhängig die für Sie am besten geeignete Lösung vorschlagen - [d, e]
BAG Helath Care
... entwickelt und produziert innovative In-vitro-Diagnostika und vertreiben diese auf internationalen Märkten - [d, e]
Bayer Schering Pharma AG
... gehört international zu den zehn größten Spezial-Pharmaunternehmen - [d, e]
Berthold Technologies GmbH & Co KG
... offers high performance standard products, optimal solutions for specific customer applications and OEM instruments for Biosciences, Medicine, Industrial Process Control and Radiation Protection - [e]
BioMérieux Deutschland
Klinische Diagnostik - [d, e]
Bio-Rad
... has played a leading role in the advancement of scientific discovery for over 50 years by providing a broad range of innovative tools and services to the life science research and clinical diagnostics markets - [d, e]
BioRepair
Diagnostika für die immunologische mikrobiologische und parasitologische Diagnostik - [d, e]
Biotecon Diagnostics GmbH
PCR-Systeme zum Schnellnachweis mikrobieller Kontaminanten und gentechnisch veränderter Organismen (GVO) - [d, e]
Biotest AG
... ist Spezialist für innovative Hämatologie und Immunologie mit dem ganzheitlichen Ansatz einer global tätigen Pharma-, Diagnostik- und Biotherapeutika-Gruppe - [d, e]
Brahms Diagnostica GmbH
... erforscht, entwickelt und produziert neuartige diagnostische Testverfahren, um die Diagnose, und damit die Behandlung lebensbedrohlicher Erkrankungen zu verbessern - [d, e, es, f, it]
Hain Lifescience GmbH
... ist ein innovativer Hersteller und Anbieter von modernen Diagnostiksystemen und Therapeutika - [d, e]
Hölzel Diagnostika GmbH
Große Auswahl an Antikörpern, ELISA-Kits, ELI-Spots, Array Assays und Peptiden - [d]
Human GmbH
... entwickelt und produziert in Deutschland Labordiagnostika für den weltweiten Markt - [d, e]
IBT - immunological & biochemical testsystems GmbH
... is a company dedicated to supply the scientific community with reagents and assays - [e]
Immundiagnostik AG
Entwicklung und Produktion innovativer Parameter und Nachweismethoden für die Labordiagnostik und die medizinische Forschung - [d, e]
Infai GmbH
... hat sich auf den Transfer fortgeschrittener analytischer Technologie in den Bereich medizinischer Diagnostik und die Entwicklung innovativer pharmazeutischer Produkte spezialisiert - [d, e, f]
Mahsan Diagnostika Vertriebsgesellschaft mbH
... ist auf die Herstellung und Vertrieb von In-vitro-Diagnostika (IVD) spezialisiert - [d]
Medac GmbH
... ist eines der wenigen Unternehmen, das neben Präparaten zur Behandlung auch die Diagnostik zur Erkennung von Erkrankungen anbietet - [d, e]
Mediagnost
... entwickelt, produziert und vertreibt hochwertige Diagnostika für die Anwendung in Forschung und Klinik in den Bereichen Endokrinologie, Infektiologie und Neurologie - [d, e]
Merlin
... entwickelt und produziert Produkte zur automatisierten Identifizierung und Empfindlichkeitsbestimmung von Bakterien und Hefen - [d, e]
Progen
... entwickelt Tests für die Eigenanwendung, die patientennahe Diagnostik durch den Arzt, die Diagnostik im Labor und Reagenzien für die biomedizinische Forschung - [d, e]
R-Biopharm AG
... entwickelt in den Bereichen Klinische Diagnostik und Lebensmittel- und Futtermittelanalytik mit seinen innovativen und zuverlässigen Produkten wegweisende Lösungen, die erfolgreich weltweit vertrieben werden - [d, e, f, cn]
Roche
... zählt zu den weltweit führenden Healthcare-Unternehmen mit den Divisionen Pharma und Diagnostics - [d]
ScheBo Biotec AG
... ist ein innovatives Biotechnologieunternehmen, das auf dem Gebiet der Entwicklung, Produktion und Vermarktung von Diagnostika sowie der Wirkstoffentwicklung aktiv ist - [d, e]
vasopharm BIOTECH
... is dedicated to the discovery and development of novel therapeutics for the treatment of cerebro- and cardiovascular diseases and their consequences - [e]
Verband der Diagnostica-Industrie e.V.
Der VDGH hat 88 Mitgliedsfirmen, die Diagnostica und Life-Science-Research (LSR)-Produkte herstellen oder vertreiben - [d]
Viroferm
... ist ein innovatives Biotechnologieunternehmen mit den Tätigkeitsfeldern Krebsvorsorge, HPV-Diagnostik, Zytologie und Testsysteme - [d, e]
Viro-Immun Labor-Diagnostika GmbH
... is the diagnostic specialist for infectious and autoimmune diseases within Biotest Group and one of the leading German producers of ELISAs, IFAs and Western Blot kits - [e]
---
---
United States of America, USA
---
Alere
... is a major global developer, manufacturer and marketer of advanced, pioneering consumer and professional medical diagnostic products - [e]
Athena Diagnostics
A commercial laboratory that provides services for physicians, hospitals and reference laboratories - [e]
Avecon Diagnostics, Inc.
... specializes in the development of diagnostic immunoassays and chemical testing procedures for the clinical and veterinary testing markets - [e]
BD
Becton, Dickinson and Company is a global medical technology company that is focused on improving drug therapy, enhancing the diagnosis of infectious diseases and advancing drug discovery - [e]
Biotest Pharmaceuticals
... is a company specialising in innovative haematology and immunology products with the holistic approach of a global pharmaceutical, diagnostics and biotherapeutics group - [e]
Fujirebio Diagnostics, Inc.
... is a world leader in the production of in vitro diagnostics, and biomarkers - [e]
Hardy Diagnostics
... offers a complete selection of laboratory supplies including culture media, rapid test kits, stains, reagents, dehydrated media, animal blood products, gas generators, specimen transports, QC organisms, susceptibility disks, petri plates, agar based prepared media and broths, and more - [e]
INOVA Diagnostics, Inc.
... is dedicated exclusively to autoimmune disease diagnostics - [e]
National Diagnostics
... is a principal world source for the development and manufacture of chemicals and related products for scientific research and technological application - [e]
Oxford Immunotec
... is a medical diagnostics company developing novel new tests for various diseases based on its innovative, patented T cell measurement technology - [e]
Quest Diagnostics
The world's leader in diagnostic testing, information, and services - [e]
Roche Diagnostics, North America
... offers a broad range of innovative diagnostic tests and systems that play a pivotal role in the groundbreaking area of integrated healthcare solutions - [e]
Strategic Diagnostics Inc.
SDI is a biotechnology company dedicated to bringing innovative solutions to analytical testing problems through immunotechnology - [e]
Trinity Biotech
… provides one of the most comprehensive solutions for autoimmune diagnostics - [e]
---
---
United Kingdom
---
Mast Group
... offers its extensive range of home produced microbiology and immunology products through it's Subsidiary and Associate companies and a global network of Distributors - [e, d, f]
---
---
European Union
---
DAKO Diagnostika GmbH
Global Leader in Cell-Based Cancer Diagnostics. HercepTest - [Denmark > e]
---
---
Austria
---
Axon Lab AG
... kann Ihnen aus einer breiten Geräte- und Herstellerpalette unabhängig die für Sie am besten geeignete Lösung vorschlagen - [d, e]
---
---
Switzerland
---
Axon Lab AG
... kann Ihnen aus einer breiten Geräte- und Herstellerpalette unabhängig die für Sie am besten geeignete Lösung vorschlagen - [d, e]
Biosynth
Biosynth is a manufacturer of organic fine chemicals in the field of enzyme substrates and reagents, indole derivatives and specialty chemicals for microbiology, molecular biology, diagnostics, pharmaceutical industry and chemical industry - [e]
---
---
Italy
---
Diasorin
The products that the Diasorin Group develops and distributes exclusively for use in clinical diagnostics are used both in diagnostic laboratories located inside hospitals and in those that operate independently of such facilities (private service laboratories) - [e, it]
---
---
Sweden
---
Phadia AB
... develops, manufactures and markets blood test systems to support the clinical diagnosis and monitoring of allergy, asthma and autoimmune diseases - [Sweden > e]
---
---
---
Related Books and Scientific Literature: Diagnostics
---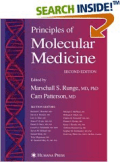 Marschall S. Runge, Cam Patterson
Principles of Molecular Medicine
This fully updated and expanded edition of the much-acclaimed Principles of Molecular Medicine provides an integrated survey of the basic principles of internal medicine, in light of recent dramatic discoveries in molecular medicine and new technologies for the diagnosis and treatment of human disease. In addition to fully revised sections on neurology, cardiology, hematology, nephrology, endocrinology, dermatology, immunology, gastroenterology, pulmonary disease, musculoskeletal medicine, and psychiatry, this volume contains new sections on genetics, oncology, metabolic diseases, and infectious diseases. These sections include the latest findings about direct links between genetic mutations and diseases, genomic approaches to a variety of diseases, and stem cell populations that regenerate muscle, heart, and neural cell populations. Other advances elucidated include the roles of bone morphogenetic proteins in pulmonary hypertension, mutations involved in an array of cardiomyopathies, and a new understanding of the biology of previously untreatable neurodegenerative diseases, such as Huntington's disease.
Humana Press; 2006
---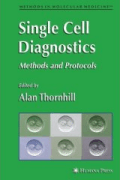 Alan Thornhill
Single Cell Diagnostics: Methods and Protocols (Methods in Molecular Medicine)
Single Cell Diagnostics: Methods and Protocols applies modern molecular diagnostic techniques to the analysis of single cells, small numbers of cells, or cell extracts. Emphasis is placed on non-invasive analysis of single cell metabolites and the direct analysis of RNA and DNA from single cells, with a focus on polymerase chain reaction and fluorescence in situ hybridization. The authors, all leading scientists in the field, provide current and innovative methods for extracting useful, accurate, and reliable data from single-cell samples. The stepwise, technically precise protocols presented in this volume thoroughly describe single-cell assays, from material collection and isolation of cells to data interpretation. Cell-types analyzed include embryonic blastomeres, fibroblasts, and lymphocytes. Among the techniques described are real-time quantitative PCR, isothermal whole genome amplification, comparative genomic hybridization, real-time genetic expression analysis, and the production of RNA and cDNA libraries. This handbook will be essential for researchers and clinicians, and practitioners providing care for couples seeking treatment for infertility or preimplantation genetic diagnosis.
Humana Press; 2007
---
---
---
---
Information about this site:
To include your website to the Internetchemistry directory, please use our registration form or send us an eMail.
The author- or copyrights of the listed Internet pages are held by the respective authors or site operators, who are also responsible for the content of the presentations.
Entries: 63
Last update 16.11.2016
Keywords: Molecular, chemical, clinical, medicinal, diagnostics, producer, trader, products
---
Citation: http://www.internetchemistry.com/market/molecular-diagnostics.htm
---
© 1996 - 2016 Internetchemistry